I have a rather beautiful listed Cotswold stone house, that has some impressive reception rooms and requires some impressive vision and creativity. The great shame is that I don't possess those skills!
Wanting to inject some modernity into a house that is steeped in traditional character, I worked with Angie to convey some of the looks and styles I liked, and then let her imagine and create my interior design scheme for a reception room, a small snug and a contemporary office space.
Angie created brilliant moodboards, adjusted to my feedback, then sourced furniture and accessories and led all the paint, fabric and flooring recommendations. And when everything started to come together, she knew just at what position and angle to place the component parts to bring it all together.
I have to say I have been the envy of my friends and family since, and I am delighted to have created something fresh and different and completely in line with my ambitions for the space.
To boot, Angie was quick, responsive, flexible, hugely creative and good fun too, I would have no trouble in recommending her skills.
Lucy – Roborough
Angela Colley at GeorgieRose offers a very superior interior design service. Interior design was a new area for me but after purchasing a new home in 2017 with some unique features, I was stuck with how to style and decorate certain areas.
Angela presented some excellent ideas and turned the main room into an amazing space which is a joy to use and see when I come downstairs in the morning. Such was my satisfaction, I have continued with GeorgieRose for my TV room and both daughter"s bedrooms and we are now embarking on the master bedroom.
I am not an A typical person to use interior services but this has been a very positive experience and working with Angela has been a true pleasure. I would thoroughly recommend GeorgieRose for both large and small projects.
Mel – Birdlip
After completely renovating our house we had an empty shell. Angela came in, gave us some amazing ideas and made it happen.
Our kitchen/dining room now is not only stunningly glamorous, but also 'home'. She spent hours of her time searching for the right things, and if anything didn't look quite right, she would say so, and find what we needed. When I look around our room, I still can't believe it's our house, it's so lovely.
Angela has got amazing vision and drive, and is also such a lovely person to work with. I would recommend her to anyone. Thanks so much Angela for making our room so special.
GeorgieRose has helped us to create our dream lounge!
Having struggled with an awkward, unsociable room layout, we sought Angela's help to make the most out of our space. We're so glad we did!
From day 1 Angela showed real passion for our project, her creative eye came up with a layout we could never have envisaged. Angela listened, understood our taste and absolutely gave 100% to achieving our vision.
The best thing about Angela is that she really cares – a perfectionist who isn't happy until every last detail is perfect. We would absolutely recommend GeorgieRose …
We are amazed and delighted by the design and passion that Angela at GeorgieRose has committed to making our study a better place to live and work.
Angela's commitment and dedication to ensuring that her designs also worked within a work space were second to none.
Angela's attention to detail and passion for an excellent result that works for us means we cannot be happier with our new found space.
Angela from GeorgieRose was excellent to deal with from the very first meeting through to the conclusion of our project.
With Angela's help we upgraded an empty and tired looking office space into something more much modern and contemporary, which we now use as a Reception area and Boardroom.
This provides an excellent meeting area for our business partners and clients, and creates an excellent first impression for our visitors.
Angela was patient, flexible and personable with her approach which helped us make decisions together to help realise the style and function we were looking for.
We would not hesitate in recommending GeorgieRose to future clients.
Alan – Bellwood Prestbury, Cheltenham
We didn't know what to expect having never used a design service before.
Ange was very helpful to a newbie, guiding me through the process and really getting to grips with what I was aiming for even though it was only vague in my head! The mood board was perfect, we had plenty of contact sourcing the items and actually really enjoyed the whole experience.
I'm stunned that the finished room is ours – I could never have had the confidence to do this without her help, and the result surpassed my expectations, in budget too.
I feel I've made a friend with Ange's relaxed manner meaning it never felt too business like. I want my whole house to have this magic touch now!!!
Thank you xxx
Laura – Cheltenham
Angela was a real pleasure to work with.
She showed wonderful patience and diligence on a project that evolved as it went along rather than her having the comfort of working within set parameters from the outset.
Her attention to detail and eye for what works are extraordinary and I can neither thank her enough for enabling me to fall in love with my home once again nor recommend her highly enough to anyone seeking any interior design help.
Mike – Battledown
Thanks to Angela I finally have the perfect lounge I have dreamed of since moving into our home 7 years ago. After numerous paint jobs and not knowing where to start I researched online and loved the look of Angela's work.
Without much of a brief she has created a beautiful room and found amazing pieces that I wouldn't even have thought about using.
Angela is a perfectionist with a great eye for design x
Abbe – Ebley
Angela has recently helped us with our living room and dining room. We are so pleased with the outcome.
She was great to work with and came up with so many ideas that we would never have dreamed of doing but which ended up looking fabulous.
She made the whole process of re-doing the rooms quicker and easier and was on hand every step of the way. I would highly recommend her.
Emily – Leckhampton
GeorgieRose helped me to turn a drab nursery into a growing boy's bedroom by offering fantastic advice and helping to bring together a simple star scheme with thoughtful finishing touches and use of colour.
A brilliant eye for detail and an uncanny ability to bring together a scheme with simple but effective ideas.
The final result is outstanding and I would highly recommend using GeorgieRose.
Really delighted with our daughter's new chill out room which looks fab in white, pink, grey and rose gold.
Angela has been wonderful, offering creative ideas, sound advice, and on call support.
The project was conceived, designed, decorating completed, and new furniture installed, in just under 2 months. We are thrilled with the finished result. It inspired me to decorate a second bedroom along similar lines.
Angela really cares about the details and was keen to ensure we were fully on board with all her ideas. The finished room looks beautiful and is a really functional space, with great lighting and lots of clever storage options.
Angela has been fabulous at helping us create a multi-functioning kitchen/family/dining space that is both practical and pretty.
It was not a straightforward project following a complete renovation, Angela has a great vision when all I could see was a building site! 
She has passion and great attention to detail, she is super organised and worked hard to get our project completed. I wouldn't hesitate to use Angela again!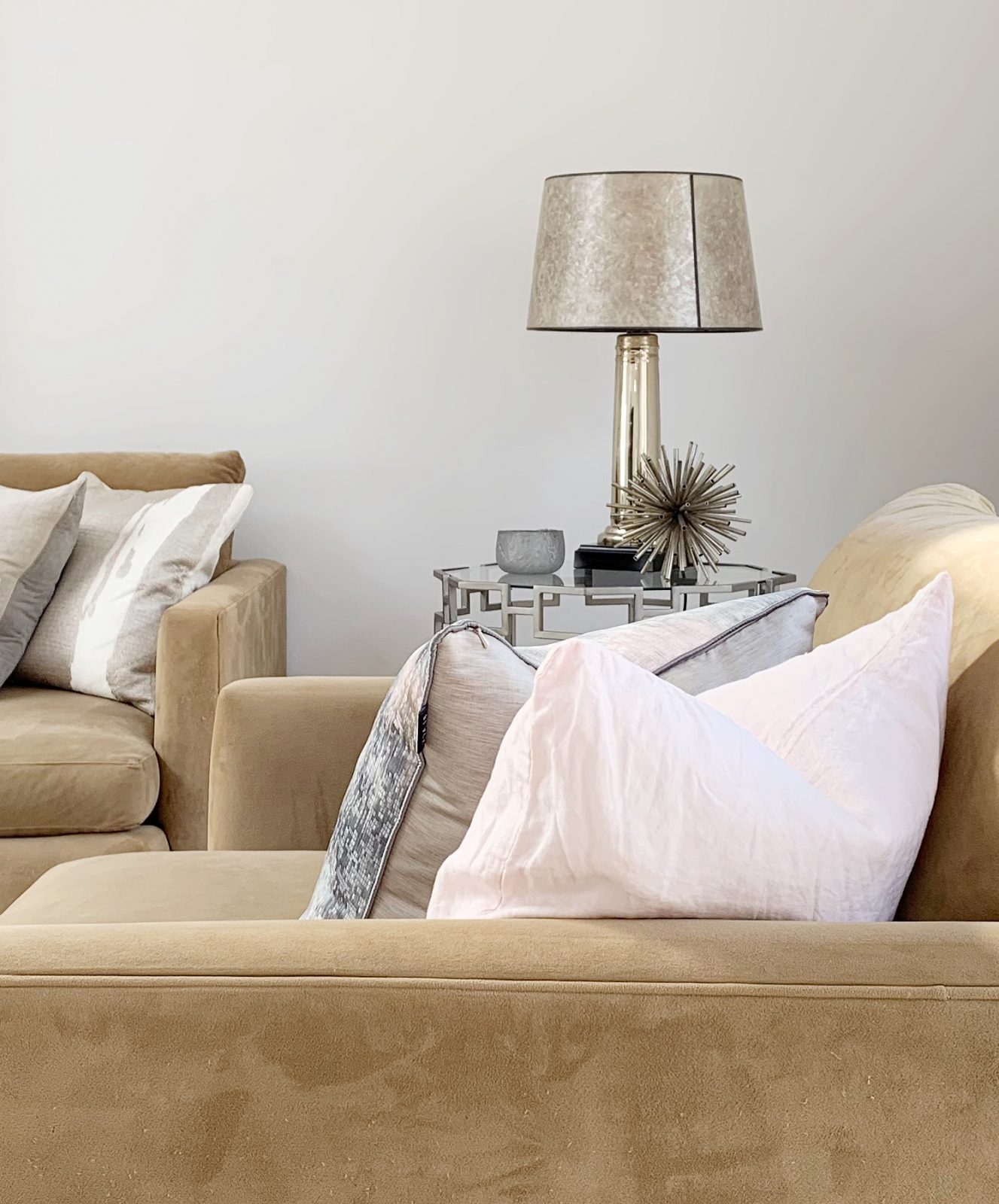 Let me help you achieve your vision...
Complete the form with details of your project and Angela will be in touch soon.