I am a forty-something lady from Dorset originally, now living in Cheltenham, with a genuine passion for interiors.
My affinity for design first emerged when I was a teenager when I decided that I no longer wanted my bedroom to be painted pink, I wanted to change it to peach and cream instead!
Much to the annoyance of my parents I also used to change the position of the furniture on a regular basis.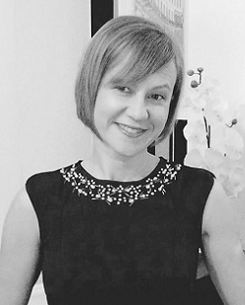 When I became a property owner myself, 18 years ago, it gave me the opportunity to realise my passion for creating and transforming a space.
Since then I have spent many years working on projects for friends and family, as well as renovating my current home from something that needed a lot of work to something that I am really proud of.
The feedback from these projects gave me the impetus to qualify as an interior designer and launch GeorgieRose.
Since launching in 2014, GeorgieRose offers interior styling to all – no constraints, no restrictions, no problem. With her glass half full mentality and impressive work ethic, GeorgieRose looks set to blossom.
I have worked on both residential and commercial projects including the re-design of a contemporary office space for a financial services company in Cheltenham as well as advising and re-designing on a number of residential projects.
My own home has recently featured in the June edition of 25 Beautiful Homes magazine, a great accolade for my business.